More than just a meal
KickStart breakfast clubs in more than 900 schools around the country are delivering much more than just a meal, say the schools and volunteers involved.
Breakfast with a serving of skills
A partnership between Sanitarium, Fonterra, the Government and local school communities, KickStart sees around 126,000 breakfasts served each week in decile 1-10 primary and secondary schools. Besides giving students a healthy start to the day, the programme is encouraging the development of social, leadership and organisational skills.
Seeing it in action
It's about nurturing the whole of the child, says one school volunteer – and certainly that's what the Tamariki Advocate and DCE Voices of Children, Jeremy Lambert, saw when he visited Porirua's Holy Family School recently, accompanying Prime Minister Bill English and Minister for Children Anne Tolley. Jeremy was struck by the energy of the tamariki, the commitment of the community volunteers and the kindness and helpfulness shown by children and adults alike.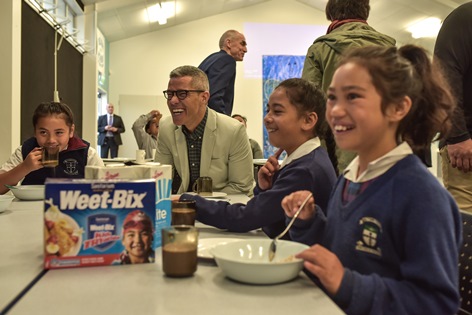 Helping each other
"These KickStart school communities are special. They show the power of corporates, government and the voluntary sector working together. Most importantly they embrace our tamariki, nourishing and involving them, and creating a safe and supportive environment for them to learn and grow."
Know of a great breakfast club in your area?
Nominations are open now until the end of May for the KickStart Unsung Hero, Student Champion, and Breakfast Club awards.