Celebrating care-experienced young people
Published: August 23, 2019
Youth advocate Injy Johnstone is encouraging everyone to celebrate the potential of care-experienced young people by nominating them for The Prime Minister's Oranga Tamariki Awards.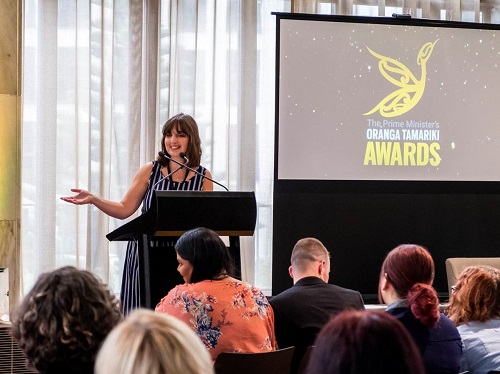 Injy Johnstone speaking at the 2018 Prime Minister's Oranga Tamariki Awards
"I had the privilege of spending the day with the award recipients last year and then to speak at the awards ceremony about how us, as current and former care-experienced kids, can use our resiliency in our futures", Injy said.
"It was truly a highlight of my year."
Being proud of care-experience
The 23 year-old has a very bright future ahead, having recently been recognised as the one of the first care-experienced young people to receive a Fulbright Scholarship. Injy also founded the Foster Child Support Network NZ, which grew into a team of 40 volunteer students who provided resources, mentorship and advocacy for children in care.
She is passionate about using this platform to reduce the stigma associated with being care-experienced.
"We should all be proud of who we are and how we got here. We've all gone through adversity and some of the toughest challenges and come through the side, so really it's a badge of honour to say we've been through care", she says.
The Prime Minister's Oranga Tamariki Awards gives young people a platform to be recognised at the highest level, connect with their peers and it gives them a step up to help them make positive changes for their future.
The next generation of leaders
In her speech at last year's inaugural award ceremony held at Parliament, Injy highlighted the leadership potential in rangatahi.
"New Zealand needs leaders like us. We know what it's like to go through adversity and build resilience in completely new situations."
"In areas like mental health, climate change, social work and child poverty – we're all needed to help guide people who aren't as used to change and being as resilient and as adaptive as we are."
The Prime Minister's Oranga Tamariki Awards
These prestigious awards recognise the achievements and potential of young people in care and recognise how a life changing opportunity can make positive change to a young persons' future.
They are held in December in Wellington at the Beehive and hosted by the Prime Minister.
The awards provide scholarships (valued up to $3,000) to help young people in care achieve their goals and aspirations for the future – whether that's study, sport, following a passion, or developing their leadership skills.
We partner with a group of very generous sponsors who help make up to 20 scholarships possible every year.
Recipients of the Awards will be treated to a special celebration day in Wellington – with their nominator and a friend. Then they all attend the award ceremony where they meet the Prime Minister.
Find out more about the Prime Minister's Oranga Tamariki Awards