Celebrating caregiving whānau this Caregiver Awareness Week
Published: March 7, 2022
This week is Caregiver Awareness Week, and Oranga Tamariki Chief Executive Chappie Te Kani is asking New Zealanders to join him in thanking caregiving whānau across Aotearoa.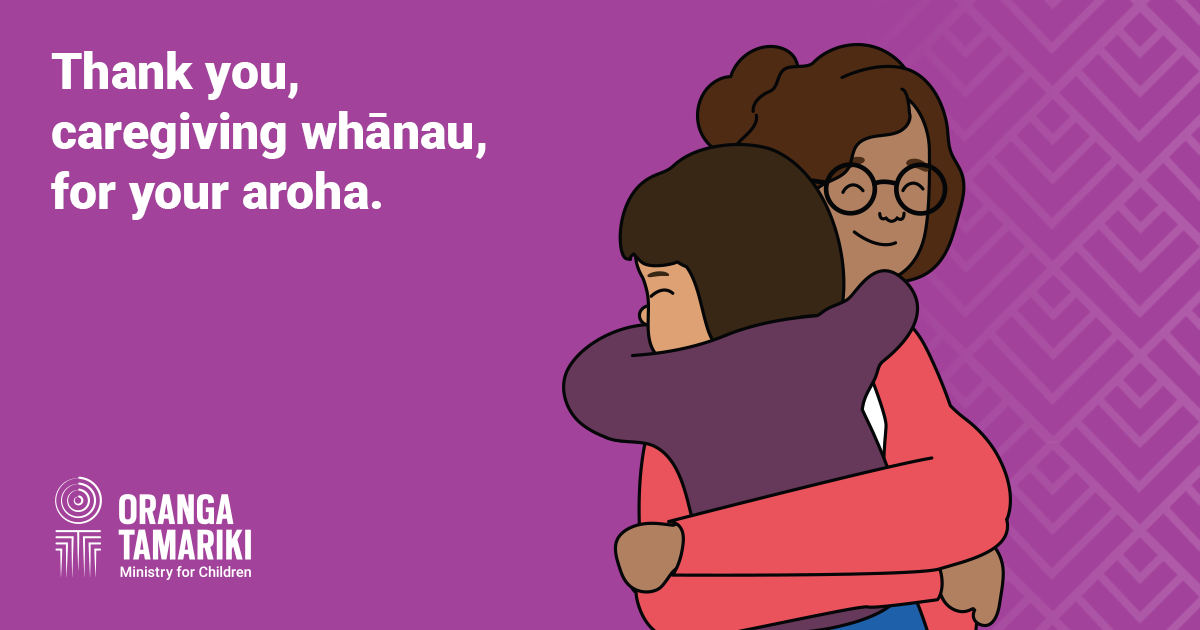 "On behalf of us all, I'd like to say thank you so much for the aroha, commitment and support that you show the children and young people in your care," Chappie says.
"You've made a wonderful choice to care for tamariki when they need it most, and I hope you take some time for yourself this week to recognise all you do."
At Oranga Tamariki, our vision is that children live safely with whānau, hapū, iwi supported by communities. For the 6,000 children that currently can't live with their parents it's caregiving whānau who for the most part we turn to and who day in, day out provide the love, support and care that these children need.
In total across the motu there are over 15,000 caregivers looking after children and young people who cannot be cared for by their parents. Oranga Tamariki supports over 3,000 of these caregiving whānau. These children and young people are members of our society who haven't always had the best start to life and in the current moment they need caregiving whānau to be there for them.
Caregiving whānau make a difference
"These caregivers are all making a significant difference, not just to children and whānau, but to New Zealand as a whole. Because of them, these children and young people in care have the best opportunity to thrive," Chappie says.
"This week is about acknowledging these caregivers, and all that they do. Having a safe home and loving people around them is so important for helping children to achieve their best; and have the best opportunities when it comes to health and education.
"We know that while caregiving is very rewarding, it can also be challenging, and takes a lot of time and energy. It can also have an impact on caregivers and their whānau. We are acutely aware of what it is like for you, and we appreciate the opportunity you're creating for these children and young people."
What caregiving whānau mean to tamariki
We know directly from tamariki how important it is to be surrounded by loved ones that support them and provide them with opportunities – which a caregiving whānau offers – so they can have the same experiences and choices as other tamariki and rangatahi.
Children and young people have told us that having a sense of family and feeling included is important to them. Feeling cared for means feeling like someone will look after them, support them and stick up for them, especially through hard times.
"It means being loved and that you have food, furniture, bed, clothes on your back and you know when you go to school, someone will drop you off and pick you up," says an 11-year-old in care.
A 13-year-old in care spoke about the feeling of belonging and the importance of connection, as well as having a place where people will care for them, and they won't feel lonely or not fit in.
"I feel people I live with care for me and I'm connected – I'm not just there, I'm included. They talk to you."
"In the long run, feeling loved is the most important. Feeling loved will get you a long way, because you know you can always go back to that place where you are loved," a 15-year-old says.
Supporting Oranga Tamariki caregivers
For the past three years, caregiving whānau caring for children in the custody of Oranga Tamariki have had support from a dedicated service in the Caregiver Recruitment and Support (CGRS) team.
"CGRS is a small but passionate team, and we want caregivers to know that we're always here for them – through their caregiver social worker, or the dedicated 0508 CARERS support line, which is available 24/7," Chappie says.
CGRS provides advice, emotional and practical support and advocacy for caregiving whānau. They offer learning opportunities, the Caregiver Assistance Programme of independent free counselling and many more forms of support to help caregivers in their role.
"We want caregivers to reach out and share their needs with us, so we can work together to best support them. It is through engaging together that we will find the best solutions."
Working with whānau
At Oranga Tamariki, our preference is for members of the wider whānau, hapū, iwi or a family group to become the caregivers for tamariki and rangatahi whenever possible – and we know that we're on the right path.
Around 40% of caregivers with Oranga Tamariki are Māori or Pacific, and around two thirds (63%) of tamariki and rangatahi in the custody of the Chief Executive are being cared for by whānau.
"I'm pleased to say we're well on the way to living this aspiration, and we know that we have an ever-increasing number of Māori caregivers looking after children and young people in care," Chappie says.