Excellence in Foster Care Awards
Published: March 6, 2020
Caregivers from across the country were honoured for their outstanding mahi at this year's Excellence in Foster Care Awards.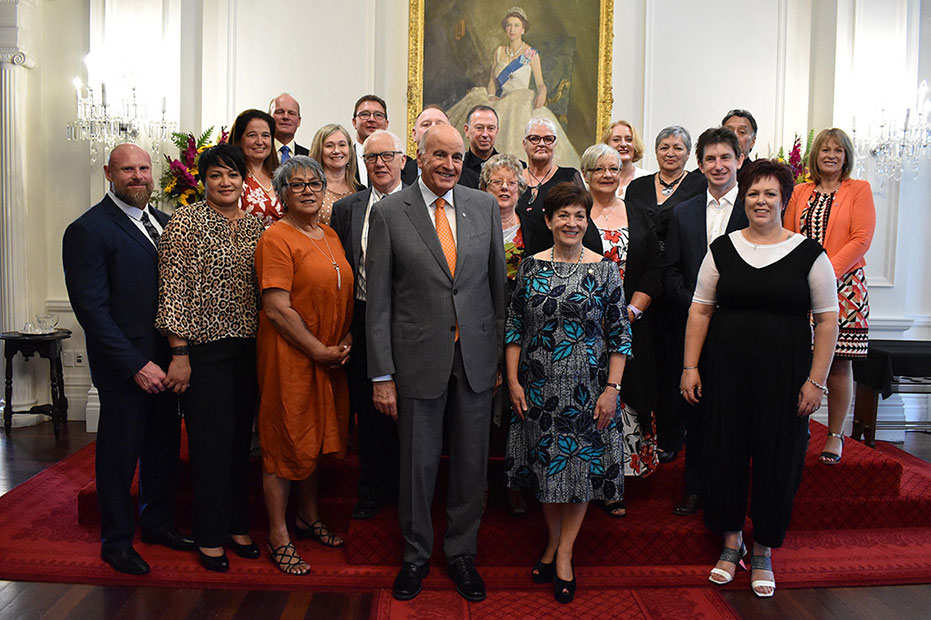 Awards celebrate outstanding caregivers
Seventeen caregivers from across the country were this morning recognised at the Excellence in Foster Care Awards at Government House in Wellington.
Hosted by Oranga Tamariki and Caring Families Aotearoa (formerly Fostering Kids New Zealand), the awards are held annually to celebrate extraordinary caregivers.
"The incredible group that we are celebrating here today are hugely influential in helping to shape a New Zealand where tamariki and rangatahi grow up in supportive and loving environments," said Oranga Tamariki Chief Executive Gráinne Moss at the ceremony.
"We understand that being a caregiver is not easy. It requires patience, sacrifice, resilience and strength. These are the traits we admire in today's winners and encourage in all our caregivers."
CEO of Caring Families Aotearoa Linda Surtees expressed gratitude and appreciation to the recipients on behalf of the community and the children and young people in their care.
"There is no greater gift than that which care families throughout our country selflessly give. Whether foster care, whānau care or permanent care, this is an amazing gift – not only to those that you take into your home, but also to the generations that follow," Linda said.
"Amongst those receiving awards today are people who have fully committed to a single child, some to several children, and others to hundreds. Between them all, they have touched the lives of thousands, both directly and indirectly, changing generation after generation."
Relationships and community are priorities for recipients
Caregivers are nominated for the awards by their social workers, fellow caregivers and members of the community. The recipients are determined through an assessment of each nominee's length of service, team approach, commitment to learning, relationship with the child's family, and role as a leader or mentor to other carers.
Gráinne said that, this year, there are some common attributes and accomplishments that can be seen across all the recipients.
"Each recipient stands out because of the incredible relationships they've developed with the young people in their care, as well as the passion they have for sharing their experiences with their community – influencing others and creating positive change in the caregiving world," she said.
The recipients of the 2020 Excellence in Foster Care Awards are:
Sue and Greg Cundy, Waikanae – caregivers for Oranga Tamariki
Kevin and Rae Dassler, Dannevirke – caregivers for Oranga Tamariki
Rosemarie and Jason Farley, Masterton – caregivers for Open Home Foundation
Darren and Dorah Farrow, Hamilton – caregivers for Oranga Tamariki
Leigh Henderson, Wellington
Georgia Kaye and Richard Kerr, Auckland – caregivers for Barnardos
Ann and Niramona Mitchell, Auckland – caregivers for Oranga Tamariki
Maraea Ranapia, Tauranga – caregiver for Homes of Hope
Rana and Mike Saywell, Palmerston North – caregivers for Oranga Tamariki
Dorothy Waitoa, Napier – caregiver for Youth Horizons.
Awards conclude awareness week
The award ceremony marks Foster Care Awareness Week – which this year runs from 1 to 7 March – coming to an end.
The week celebrates caregivers for the commitment they make, and aroha they give, to children and young people. Events were held across the country to say 'thank you' to caregivers for all that they do.
"I would like to acknowledge all of New Zealand's caregivers, who put in such an extraordinary effort to support tamariki and rangatahi in care. Your generosity, and the generosity of your whānau, is amazing," Gráinne said.