Future focus at National Hui
Published: July 6, 2018
There was an air of possibility at the Oranga Tamariki National Forum held in Wellington.
Working together at the Oranga Tamariki national forum video
Transcript
Future focus at national hui – video transcript
(Music of people singing with a guitar)
(Text across the screen):
Our partners gathered to discuss how we can all work together and work differently to meet the needs of tamariki and whanau.
(Music stops)
Tevita Funaki – CEO, The Fono:
It's a great day for us to network with our fellow providers. Hear what's actually been working well what are their challenges. Exchanging some of the learnings as well.
(Piano music plays softly in the background)
Tracey Martin – Minister for Children:
Why we're here today is a desire to do things better. You've come from different places and you have unique networks, histories, methods.
Dee-Ann Wolferstan – CEO, Te Whare Ruruhau O Meri:
I'm hearing and seeing that there's a mutual respect of sharing of information, that is critical to the well-being of our whanau.
Tracey Martin – Minister for Children:
You have invaluable expertise, experience and ideas. That's why I will continue to challenge you to help us deliver the best possible outcomes for children and young people.
Dee-Ann Wolferstan – CEO, Te Whare Ruruhau O Meri:
It's the first time I've seen a Ministry specifically say 'this is what we are dedicating to these areas.' From the NGOs there is some hope that things are changing.
Tony Kake – CEO, Papakura Marae:
So some of the key changes that are happening in particular for me out of the hui, is the legislation, the changes really put Māori and delivery to Māori in a Māori responsive way at the forefront.
(Piano music fades out and we hear the singing of waiata in the background)
So if you're not competent in delivering to whanau Māori you have to quickly be competent or get out of the road basically.
Marion Heeney – CEO, Youth Horizons:
We can intervene early, keep kids safely with their whanau so they don't need out of home care, I think that's really awesome.
Gráinne Moss – CEO, Oranga Tamariki:
What can we all do together not just with Oranga Tamariki, not just our partners but also you know the community. Children don't tell us about a service provider they tell us about a person that changed their life and what that person did for them.
(Music fades out)
(Oranga Tamariki logo appears on the screen)
End of transcript.
Building momentum together
Providers came together to hear what's ahead for the sector and build on the momentum established through regional hui.
Genuine partnerships and co-design were the focus of the hui.
With new legislation set to come into force by July 2019 there are still big changes to come, and this was an opportunity to start re-imagining services together.
Preparing for change
Minister for Children Hon Tracey Martin spoke at the event, acknowledging the challenges faced by providers. "I hope that what unites us is a desire to do better," she said. "Between us we must make the changes outlined by the Expert Advisory Panel."
Chief Executive Gráinne Moss expressed her desire for the Ministry to work very differently in the partnerships space. "Co-design of services does result in significantly different outputs," she said.
"We've got an opportunity to shift the way we work to make things better for children, and we've actually got time to have this conversation about how we can build on momentum, get smart and use each other's strengths."
We've got an opportunity to shift the way we work to make things better for children

Gráinne Moss, Oranga Tamariki CE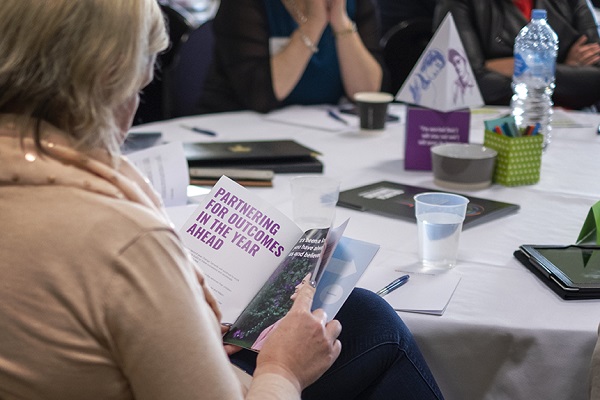 Making a start now
Throughout the day, partners were able to help plan new services – brainstorming new solutions to cater for the inclusion of 17 year olds in the youth justice system, feeding into the design of services for young people transitioning out of care and youth justice placements, and giving insights into the needs of whānau for the development of intensive intervention services for tamariki at risk of harm so they remain safe at home.
There was continuous discussion about the new section of the Oranga Tamariki Act related to improving outcomes for tamariki Māori, which will apply to all provider relationships.
"We need to deliver real change to tamariki Māori or we haven't succeeded," Gráinne said.
Challenges and opportunities
The voice of the partner was heard at the end of the day through talks from Barnardos' Mike Munnelly and Ngāpuhi Iwi Social Services' Liz Marsden about what's been challenging when working with Oranga Tamariki, and what's been going well.
Barnardos CEO Jeff Sanders said he believes in co-design. "The hui has been more valuable than I thought it would be with such a large group."
"I enjoyed hearing the messages from the Minister and Gráinne. I'm seeing a shift where there is genuine talk about partnership."