Darrin Haimona attends Aboriginal Children's Forum
Published: August 25, 2023 · Updated: August 25, 2023
Māori, Partnerships and Communities, Deputy Chief Executive Darrin Haimona was invited to speak at the Aboriginal Children's Forum, which promotes the safety, health and resilience of vulnerable Aboriginal tamariki and rangatahi.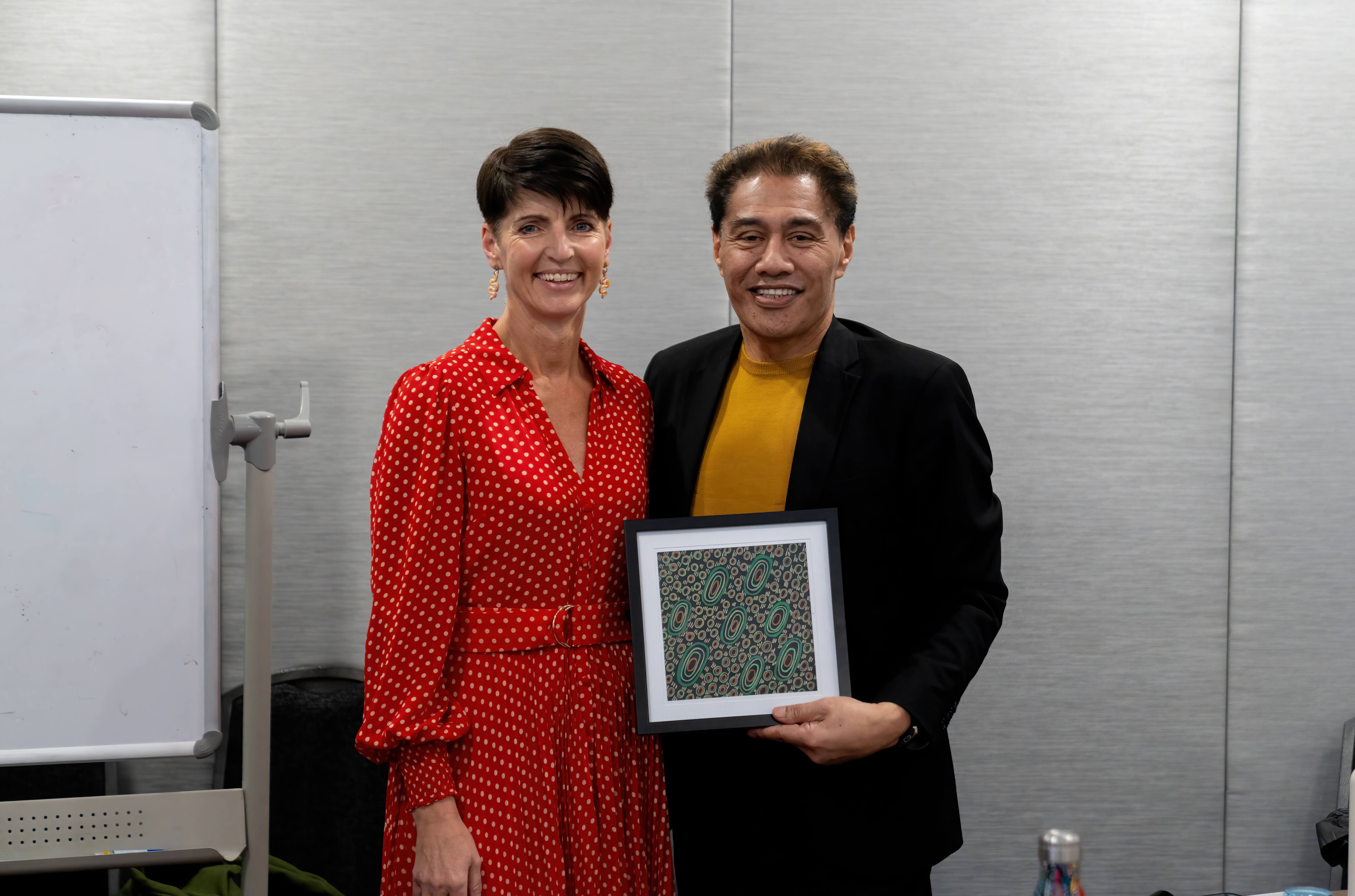 The Aboriginal Children's Forum, held in Akuhata 2023, was attended by representatives from Victoria's Aboriginal Community-Controlled Organisations, Community Service Organisations and the Victorian government.
Oranga Tamariki Māori, Partnerships and Communities Deputy Chief Executive Darrin Haimona says, 'our attendance at this forum was important for me as a Māori to give our indigenous brothers and sisters our experience of how we support whānau, and to talk about how we keep children safe but also to help ensure they are in stable loving homes.'
Relieving tension and reflections
Department of Communities and Justice Transforming Aboriginal Outcomes Unit Manager Christian Tisdell says those who attended the forum cannot overstate just how impactful Darrin's speech and presence was.
'After a tense morning, Darrin helped release any tension and allowed people to breathe, relax and smile. The mix of sincere emotion and evidence-based discussions in his speech was perfectly balanced and will no doubt leave a lasting impression with each participant,' Christian said.
Uarnie-Jane More, Māori, Partnerships and Communities National Director, who also attended with Darrin said, 'there were rounds of applause, bouts of laughter and moments of serious reflection. There were also some parts of the forum that reminded us about how far we've come in terms of genuine partnership rather than master-servant.'
Darrin's presentation included:
key reviews and inquiries which took place between 1988 and 2021
our key legal shifts with the Children Young Persons and their Families Act
the reasons for section 7AA
our transformation and Enabling Communities.
Why the forum is important for Aboriginal communities
The Aboriginal Childrens Forum reports on the implementation and monitoring of the Wungurilwil Gapgapduir: Aboriginal Children and Families Agreement which was launched in 2018 to provide a strategic direction to reduce the number of Aboriginal children in out-of-home care by building their connection to culture, country and community.
It ensures the objectives and actions of Wungurilwil Gapgapduir align and contribute to Closing the Gaps targets and the Victoria Aboriginal Affairs Framework priorities and indicators.
The forum's agenda is designed to foster dynamic and inclusive discussions, providing participants with the opportunity to engage in thought-provoking sessions led by respected experts in the field. The sessions spanned a wide spectrum, from data-sharing between agencies to panel discussions on the barriers and opportunities for reform.
Minister for Families and Communities and Minister for Disability Inclusion Kate Washington said, 'I'm hopeful that our forum will be a significant step towards a more equitable future for Aboriginal children. We are dedicated to co-creating a legacy of progress and improved outcomes.'
Building a brighter future for Aboriginal children
The collective determination to improve the lives of Aboriginal children and families has prompted the state's peak Aboriginal child welfare organisation, AbSec, and the New South Wales Government to collaborate on this pivotal forum.
'We must reimagine the child protection system, so we can build a brighter future for Aboriginal children, families and our entire community. The only way we can do that is through genuine co-design and partnership with Aboriginal people, families, and communities,' Ms Washington added.
The Aboriginal Childrens Forum meets quarterly and is hosted by a different Aboriginal Community-Controlled Organisation on a rotating basis.