Oranga Tamariki General Manager receives Public Service Medal
Published: November 3, 2020
General Manager International Casework and Adoption, Paula Attrill, has received a Public Service Medal for her unrelenting passion for improving the lives of tamariki.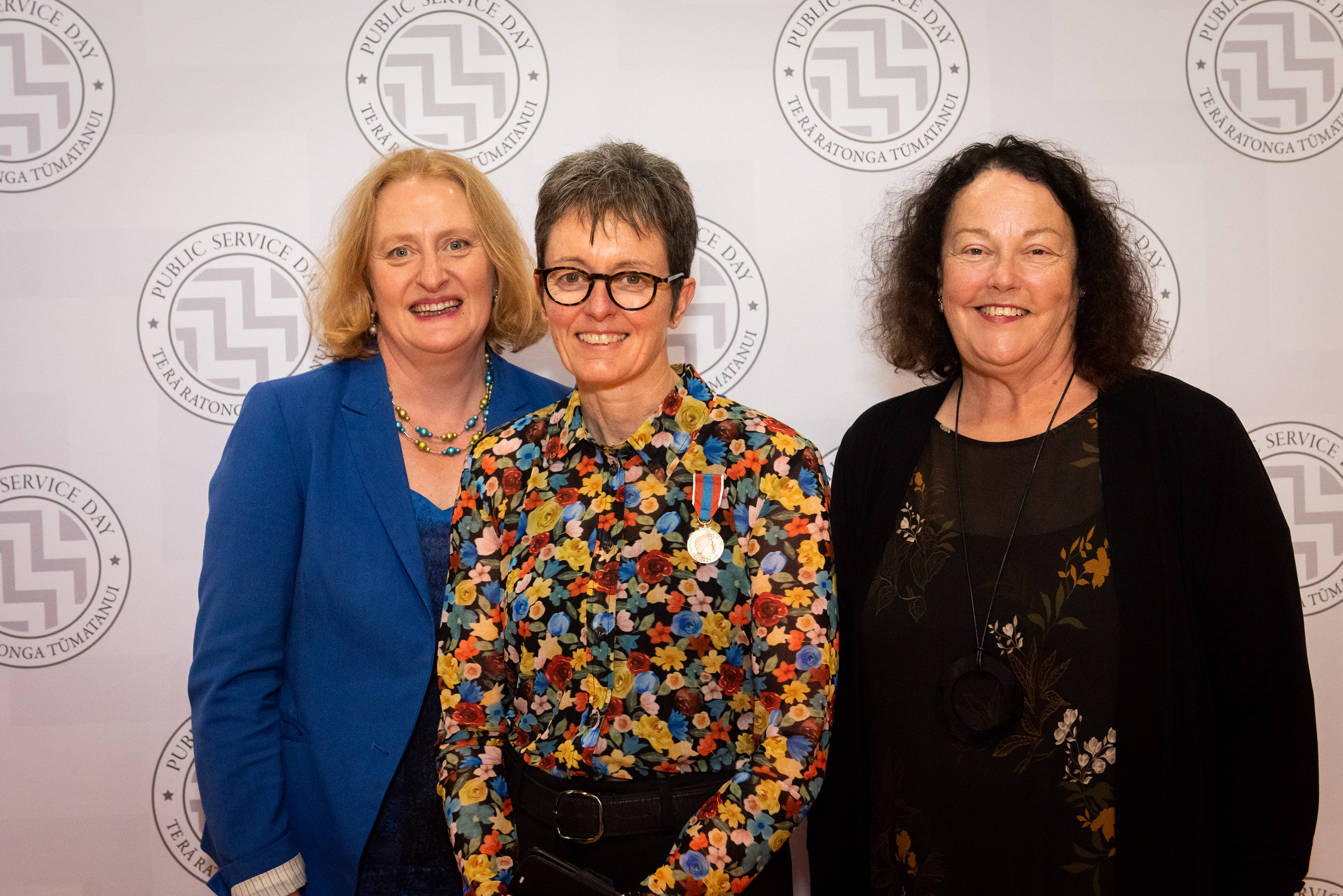 Inspired by her mum and dad
Paula has given 27 years of service to the public sector, with the majority spent at Child, Youth and Family and now Oranga Tamariki.
She credits her parents for her decision to pursue a career in child protection in the public service.
"My mother has the most amazing sense of social responsibility and service to the community of anyone I know, which made me want to be helpful and kind to people."
Her dad taught her that change is possible, and to persevere when things get tough.
"My dad didn't have the easiest upbringing but was a great father and grandfather. He showed me that harm doesn't have to be repeated across generations. This grounds me and gives me confidence people can change in the right circumstances, with the right support."
Driven by what matters most for kids
Paula's passion for improving the lives of kids comes from a place of loving being around them, and an innate sense of wanting to care for them and protect them.
"Kids are the most vulnerable in our community because they are the littlest and the least able to advocate for themselves. I've always gravitated towards kids – I love being around them and seeing them laughing and playing, or seeing other people's kids and grandkids."
Over the course of her career, one moment in particular stands out.
"I travelled to Dubai with a Samoan supervisor, Shirley, to collect a Kiwi Samoan girl from a care facility. I'll never forget this little girl sticking her head out the door and spotting Shirley, and her face absolutely lit up.
"I could have been anyone, but she connected with Shirley immediately. This was the biggest lesson I could've learnt about the importance of cultural connectedness for kids."
A prolific and varied career
After joining Child, Youth and Family in 1993, Paula held a number of roles including practice leader, site manager, regional director and now general manager.
Following the 2011 earthquakes she was sent to Christchurch to support staff and lead the response to re-establish our services, ensuring 600 tamariki were safe and had their needs met.
Fast forward to 2020, and she's played a critical role in the All of Government COVID-19 response at the Government National Command Centre, and as a member of the Oranga Tamariki Incident Response Team.
Turning children's voices into action
In 2016, through her senior role in the Investing in Children's Team, Paula was tasked with working with others to turn the 2015 Expert Advisory Panel report into an operational reality, galvanising people from across government and sectors to design a new child welfare operating model.
One of the things she is most proud of, is the work she did to support the implementation of the National Care Standards, which were developed in direct response to the report and the voices of children and young people.
"The Care Standards outline what children can expect to see happening while they're in care. At the centre of what they said was important was a real desire to be heard, have a say, be connected to their whānau, and know where they come from.
"It was such a privilege to lead a team of incredibly dedicated people who, just like me, want to see the Care Standards come to life for kids."
Success in the international arena
In 2010, and again in 2015, Paula represented New Zealand at the Special Commission of the Hague Conference on Intercountry Adoption. She has also worked with numerous agencies on mass arrivals, child trafficking, Pacific adoptions, and the monitoring of youth who may have radicalised beliefs.
"When I went to Massey to study social work, I never in a thousand years imagined it would result in a career which involved such a wide variety of issues that impact children's lives. The international work is some of the most interesting and rewarding I've been involved in."
Recognition for 27 years of mahi
Paula says she was in complete shock when she found out she was receiving a medal.
"I walked around in a daze all day thinking that didn't happen! I can hardly believe I've got it because there are thousands and thousands of public servants who work as hard as I do. I am just very, very grateful."
Deputy Chief Executive Care Services, Trish Langridge, is absolutely delighted Paula has been recognised.
"Paula brings a sensitive and human approach to her work, and her thoughts, words and actions are unfailingly child-centred. She is intelligent, authentic and hugely respected by all who know her. I know I speak for all of her colleagues when I say this is so well deserved, and we are so lucky to have her as part of our team."