Prime Minister's Oranga Tamariki Awards 2022
Published: December 14, 2022
On 7 December, 25 recipients of the 2022 Prime Minister's Oranga Tamariki Awards travelled from around Aotearoa to Wellington to have their achievements acknowledged over a special two-day celebration.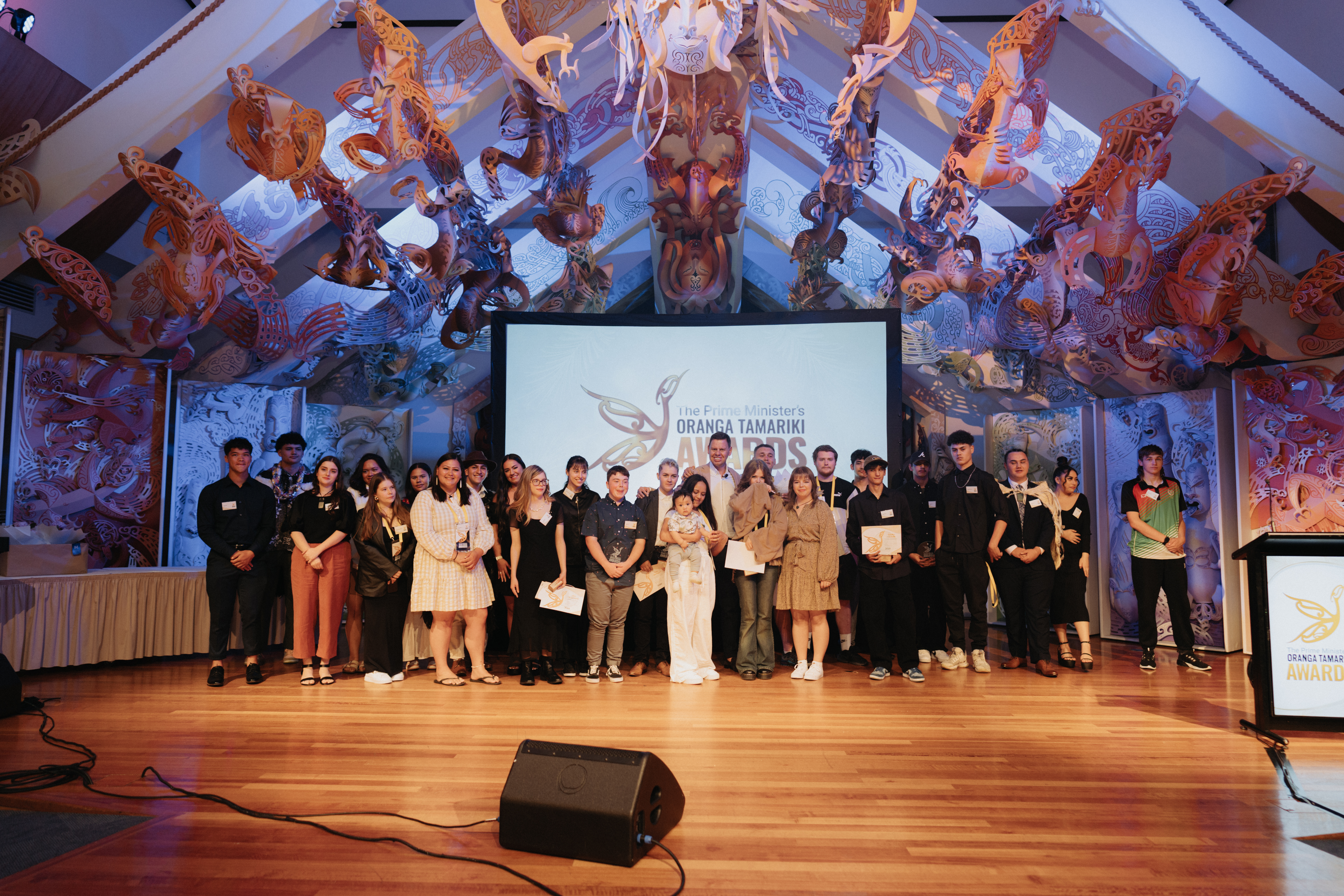 The Prime Minister's Oranga Tamariki Awards recognise the difference that opportunities and positive change can make to a young person's future.  
 
Recipients receive a $3000 scholarship or an Outward Bound scholarship experience to nurture their future interests, talents and skills.  
 
The 2022 recipients will use their scholarships to further their aspirations across everything from dairy farming, engineering, carpentry, beekeeping, studying social work to becoming a funeral director. 
 
Being nominated can be a life changing experience for a young person. It reinforces how strongly others believe in them. 
A special evening
The recipients arrived on Wednesday 7 December and spent an afternoon relaxing and getting to know each other at the Hub in Kilbirnie. 
 
There was the opportunity for everyone to get their hair and makeup done for the awards ceremony that evening and there were a few friendly pool and cornhole challenges. 
 
Former All Black Liam Messam spoke to the group about his special connection to this kaupapa having grown up in a whānau of adopted and fostered tamariki. 
 
The awards evening kicked off later that evening at Rongomaraeroa, Te Marae in Te Papa.  

Minister for Children Kelvin Davis and Oranga Tamariki Chief Executive Chappie Te Kani spoke presented the awards alongside sponsors and Chief Social Worker Peter Whitcombe. 
 
Recipients all received a beautiful tohu (trophy) specially designed to recognise the significance of these awards. It depicts a kotuku (heron), a puhoro pattern and a hei-matau (fish hook).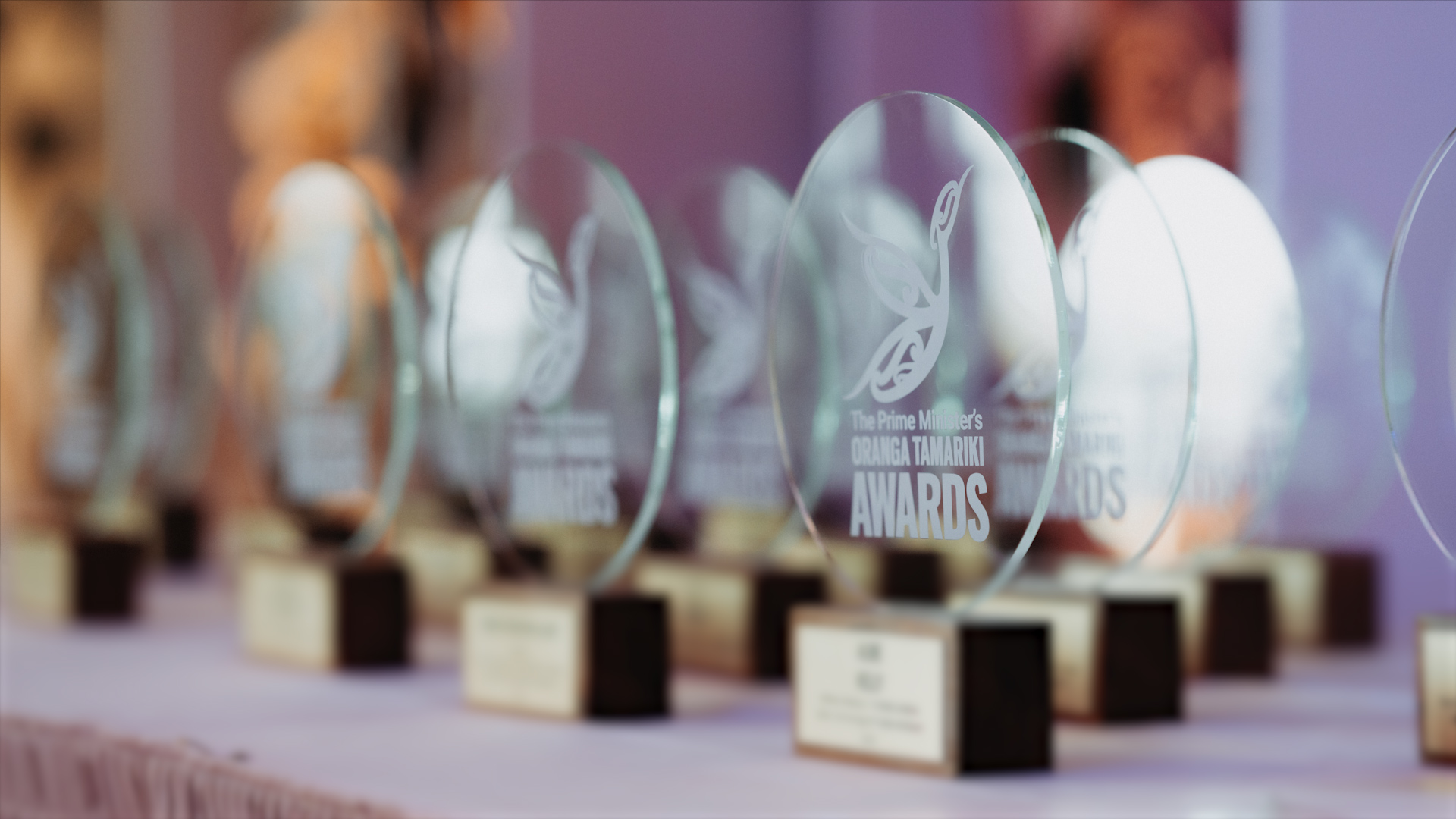 Thoughts from our special guests
Our MC for the evening was Patrick 'Matua Paddy G' Gower and he found the perfect balance between being formal and engaging. 
 
He set the tone of the evening right from the beginning, building the energy by encouraging loud clapping, whooping, and cheering, ensuring the young people felt special. 
 
He also had some wise words for the recipients. 
 
'I believe that anything is possible. Everything I've achieved in my career has really been down to working really, really hard and just following my dreams and always believing that anything is possible.'
 
Chief Executive Chappie Te Kani also spoke to the attendees. 
 
'From where you are now, to where you're going to go, is absolutely amazing. Always remember the superpower you've unleashed, to get you to this point. When times get tough, remember you've got it in you to get to where you want to be.'
 
Special guest Ayla Hotea remembered lessons she had learned from her own care-experienced journey and Mary-Lynn Huxford shared a spoken-word poem that many will remember as a beautiful, honest and raw insight into her own lived care-experience. 
 
The ceremony was closed with a performance from A.R.T., trio of performers from Porirua. 
The journey forward
The experience concluded the following day with a trip up the Wellington Cable Car on a beautiful, sunny morning before heading off to Parliament for a special morning tea with the Prime Minister. 
 
Every day at Oranga Tamariki, we work with young people in care who inspire us.  
 
However, the Prime Minister's Oranga Tamariki Awards take it one step further. They recognise and celebrate how far each recipient has come - and most importantly how much further they can go. 
 
Scholarships for the young people were possible due to the generosity of our sponsors Barnados, Bluestar, Kia Puāwai, Lifewise, L'Oreal, Spark, Outward Bound, Orbit Travel, Sysdoc and advocacy service VOYCE - Whakarongo Mai.