Saving goals to reach potential
Published: May 31, 2019
Manawa always had sporting potential, but it took a committed caregiver and a high school mentor to help realise it.
The 14 year old boy from Timaru has been selected for the Southern United Football Academy, and dreams of one day playing for the All Whites.
He was passionate about football from a young age, but didn't get the chance to join a team until he came into care and started living with his caregiver, Akina Young, at nine years old.
"Akina asked me what sport I wanted to play and I said football. I'd liked the game since I was a little kid as I used to watch my uncle referee."
Akina signed him up to a local club, West End AFC, with Oranga Tamariki helping to pay for his gear and fees, and she is so proud of what he has achieved.
"I'd seen him playing when I was working at his school, and he always had potential, he just needed some stability at home," Akina says.
A high school teacher also recognised his talent and put him forward for the Southern United Academy.
He played his first game for the team last month and has a busy year ahead with training camps and matches all over the South Island.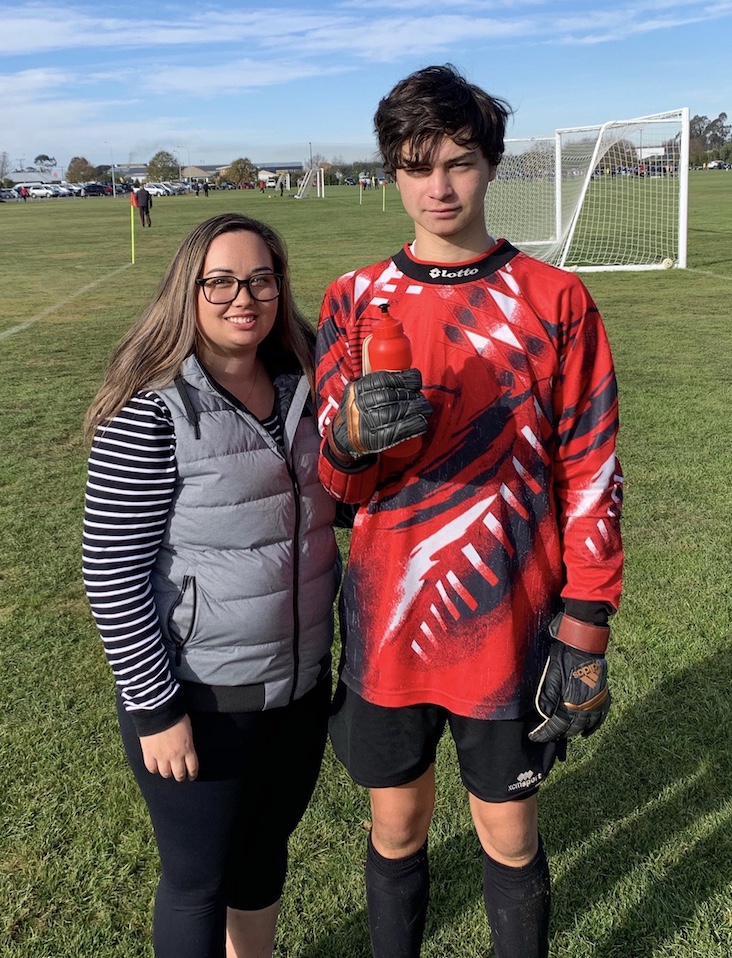 Helping tamariki develop their skills
Manawa dreams of playing for the All Whites, but he knows it's going to take a lot of skill and practice.
"I think I'm here for a reason, so I'm going to try as hard as I can," he says.
Akina will do everything she can to help him achieve his best.
"I don't see it as a choice, but something we have to do for him," she says.
"The time and costs are a small sacrifice to make such a big difference in his life."
Under the new National Care Standards, we must assess the play, recreation and community needs of all tamariki in care.
Manawa's advice is to let young people choose a sport or other hobby, and if they like it, help them develop their skills.
"I think if you can take the opportunities when you're young, you can go really far," he says.
"Playing football has helped me become more confident and learn new skills. I have also made a lot of friends."
All young people have great potential
Manawa and Akina hope their experience will encourage other families and caregivers to put in the extra effort to help their children thrive through sport or other recreational activities.
"All children and young people need a passion to pursue, and it's terribly sad that so many don't have the opportunity," Akina says.
"They all have great potential in some area, but it's being missed. All it takes is someone to be there to take them to practice, pay the fees and make sure they have the gear. You never know where it could lead them."
Manawa will get a taste of how far he can go when he watches the Wellington Phoenix play soon.
When visiting Timaru last month, Oranga Tamariki Chief Executive Gráinne Moss met Manawa and awarded him a pass to watch the Phoenix and meet the players.
This was enabled through our partnership with Sport NZ.