The Prime Minister's Oranga Tamariki Awards 2019
Published: December 12, 2019
It was an action packed day celebrating care experienced young people and their achievements on December 10.
Transcript
The Prime Minister's Oranga Tamariki awards 2019 - video transcript
(Enspiring music plays throughout)
William Waiirua, former Oranga Tamariki youth worker:
There you are, I didn't see you there. We're down here at Spruce Goose, for Oranga Tamariki.
These amazing young people have done some amazing work and are achieving at a high level. They're here for the Prime Minister's awards.
Amanda Wright, Oranga Tamariki Events Manager:
These twenty two young people are receiving scholarships today, that will support them in their study, their vocation, their leadership and professional development into their future. It's a huge recognition and an amazing opportunity.

Hollie Oswald, Oranga Tamariki Social Worker:
Lots of these kids haven't even gone on a plane before, and I just think being really treated, feeling really special for the day is what they'll probably remember the most.
Amanda Wright:
They are going to explore, they are going to get their hair and make-up done, they're being well looked after and loved, then they're going to meet the Prime Minister.
Award recipient:
I'm Caitlin
Jacinda Ardern, Prime Minister:
Kia ora Caitlin, how are you? You look gorgeous as well. All of a sudden I feel so underdressed.
Jacob Gibbons, Award recipient:
A lot of things that I've done in my life, I didn't think it would all lead up to meeting the Prime Minister. It's pretty unreal, like. Her acknowledging my work, acknowledging my success. It's pretty memorable for me that she would take time out of her day to speak to me, and see me. I hope that my art inspires a lot of other people in the future.
Tracey Martin, Minister for Children:
Those who are here today who are going to be awarded, you are the embodiment of resilience.
Gráinne Moss, Oranga Tamariki CEO:
These awards, hopefully, can take you one step forward, they recognise how far you've come, but actually, more importantly, how much further you can go.
Caregiver:
Like I say to my kids, the stars are the limits, you know? Anything's achievable, you know like, only you will stop you from achieving anything in this world.
Reyana Wilson, Awward recipient:
A chance can mean everything, you know when somebody looks at us and says, you know, I think you can be something, I think you can do something, that's major, and that's giving us something that we don't necessarily have already and you know, that means the world. This opens one door and it can really take you anywhere.
End of transcript.
Time to reflect and have fun
The annual awards recognise the challenges young people in care have overcome and the huge potential they have.
Twenty-two care experienced young people from all around the country gathered in Wellington on a glorious sunny day with their supporters.
In the lead up to the awards ceremony in the Banquet Hall at Parliament there was plenty of time to make friends. A host of fun activities included brunch by the beach, a visit to Te Papa and crocodile biking along the waterfront.
Afternoon tea with the Prime Minister
Before the formal part of the day, some young people chose to have their hair and make-up done.
This was followed by a highlight for many - an informal chat with the Prime Minister Jacinda Ardern over afternoon tea at the Beehive.
And of course the essential photo session!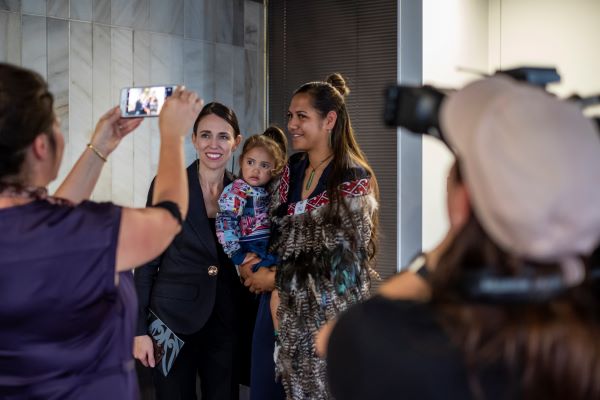 The awards ceremony
The ceremony was hosted by youth advocate and former care experienced young person Jennifer Thonrithi. Minister for Children Tracey Martin and Oranga Tamariki Chief Executive Gráinne Moss spoke and presented the awards. Guests were entertained by the impressive soloist Olivia Hubbard and poetry group Ngā Hine Pūkōrero.
Scholarships for the young people were possible due to the generosity of our sponsors Barnardos, Sysdoc, Outward Bound, Vodafone NZ Foundation, Youth Horizons, Open Home Foundation, GFS, Orbit Travel, Blue Star, Princes' Trust and independent connection and advocacy service VOYCE - Whakarongo Mai.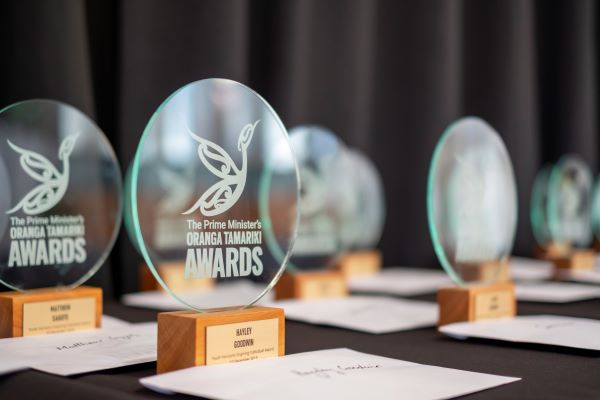 Bright futures
This year each recipient will be supported by VOYCE - Whakarongo Mai and a kaiwhakamana (mentor) to help guide them to make decisions about their scholarship.
Everyone one of these award-winning rangatahi have a bright future ahead of them. We hope the scholarships will help them achieve their goals.
Congratulations to you all and good luck on your amazing journey!