Toro Atu ō Ringaringa - reach out your hands
Published: April 12, 2021
Oranga Tamariki has signed its seventh Strategic Partnership Agreement with iwi - with Ngāti Toa Rangatira and Te Rūnanganui o Te Āti Awa ki te Upoko o te Ika.
Ngāti Toa Rangatira, Te Rūnanganui o Te Āti Awa ki te Upoko o te Ika and Oranga Tamariki join up
The image of a double-hulled canoe was at the centre of a signing event at Parliament this week for the joining up of Ngāti Toa Rangatira and Te Rūnanganui o Te Āti Awa ki te Upoko o te Ika' with Oranga Tamariki.
With Oranga Tamariki as one hull, and mana whenua the other, moving forward together on a new journey is the challenge ahead for both.
Named Developing Te Rangapū Ahi Kā Roa, the strategic partnership agreement looks to build a sustainable and effective relationship between Oranga Tamariki and Wellington region iwi. It was signed by Helmut Modlik, Chief Executive Officer Te Rūnanga O Toa Rangatira, Wirangi Luke, Chief Executive Officer Te Rūnanganui o Te Āti Awa and Oranga Tamariki Chief Executive Gráinne Moss at Parliament on Thursday.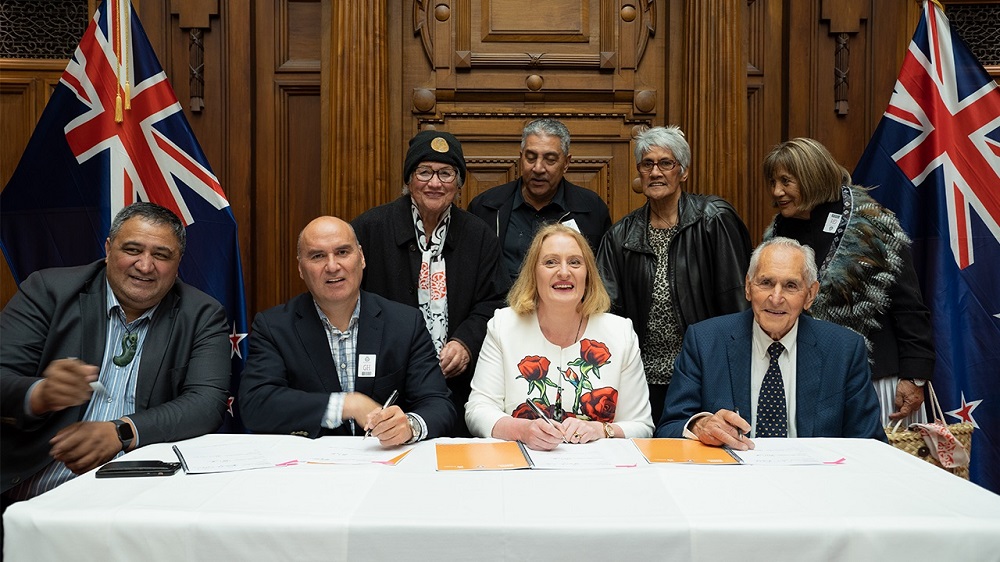 A crossroad moment
Taku Parai, Chair of Te Rūnanga o Toa Rangatira, said at the event that the partnership is about their young people and getting closer to what's going on for them.
"I'm delighted to be here to push this kaupapa of togetherness."
CE Helmet Modlik described the point in time as a crossroad moment for whānau and tamariki.
"I've been thinking about how we systematically respond to the broken hearts and minds of tamariki and whānau."
"We look forward to, as partners, solving together the challenges in front of us."
Commitment amidst challenge
Kura Moeahu, Te Rūnanga o Te Ati Awa Chair, acknowledged the challenge of activating the partnership, and activating Puao-te-Ata-tu.
"Let's give it life," he said.
"It's always about the mokopuna. We need to look after the mokopuna, we were all once mokopuna."
Kura also recognised the significance of Ngāti Toa and Te Āti Awa together at the table.
"This is the new iwi going forward."
Tamariki thriving
Oranga Tamariki Chief Executive Grainne Moss spoke at the event about the existing close connections with both iwi.
"This is the first time we have signed a Strategic Partnership Agreement with an iwi collective, and we respect and are inspired by how you have come together."
"We are very very excited about the opportunities it will bring for our tamariki, rangatahi, whānau and mokopuna."
"We want to ensure that tamariki are thriving in the protection of their whānau, hapū and iwi and our strategic partnerships are helping us to continue the downward trend of tamariki Māori coming into state care."
The agreement was signed before lunch while the room sang together Toro Atu ō Ringaringa – reach out your hands.