Waikato-Tainui Strategic Partnership
Published: May 2, 2019
The relationship between Oranga Tamariki—Ministry for Children and Waikato-Tainui has taken a significant step forward, with the signing of a Strategic Partnership Agreement.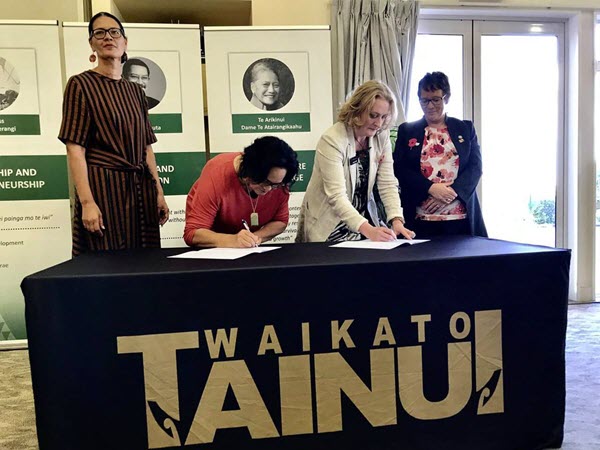 Mai te karangaa o ngaa kuuia, ki te reo waaiata o ngaa tamariki
From the call of kuuia to the singing voices of children, Waikato-Tainui Iwi welcomed leaders of Oranga Tamariki to their College for Research and Development near Ngaaruawaahia just before the Easter break, to sign a significant Strategic Partnership Agreement.
Tamariki o Te Kura Kaupapa Maaori o Bernard Fergusson filled the ceremony with celebration, and offered their signatures to support the agreements that their tribal elders and leaders of Oranga Tamariki were making on behalf of all tamariki mokopuna o Waikato Tainui.
Alongside leaders of Oranga Tamariki and Iwi, the event was also attended by the Minister for Children, Tracey Martin and the Minister for Māori Development, Nanaia Mahuta.
A renewed partnership
For Oranga Tamariki, the Strategic Partnership Agreement is a renewed commitment to Waikato-Tainui Iwi and a significant step forward under s7AA of the Oranga Tamariki Act 1989.
Chief Executive, Gráinne Moss, said the signing marked a further step in an already strong partnership with Waikato-Tainui.
This has been underpinned by the Mokouna Ora partnership, focused on preventing mokopuna coming into care and supporting whaanau caregivers to keep tamariki within their wider whaanau, where possible.
"We really hope that this will help us to build stronger relations with you all. We can't do this without you," she said.
For Oranga Tamariki, it commits a stronger intention for us all to work alongside all whaanau, hapuu and iwi of Waikato Tainui, to deliver meaningful and sustainable improvements for tamariki mokopuna.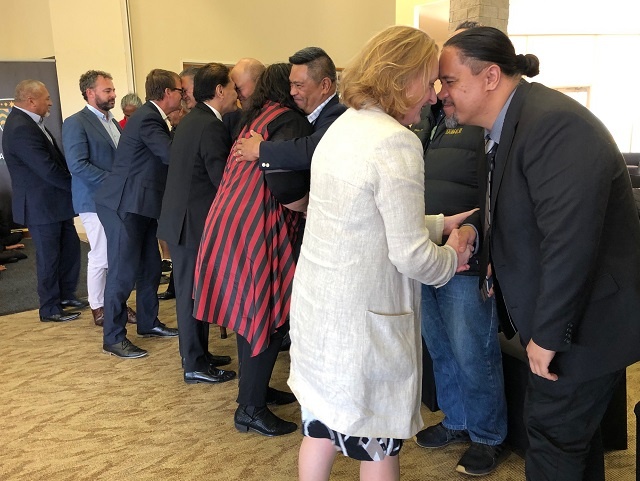 Partnership objectives
The joint objective is to contribute to the wellbeing of Waikato-Tainui tamariki and mokopuna who come to the attention of Oranga Tamariki.
The objectives of Waikato-Tainui are that:
There are no Waikato-Tainui children in the care of Oranga Tamariki.
Tamariki mokopuna in care are placed with or connected to their whānau, hapu, iwi and cultural identity.
Whānau are empowered and supported to care for their tamariki mokopuna.
'Rauaroha' – moving toward a spirit of cooperation
Chair of Waikato-Tainui Iwi, Rukumoana Schaafhausen, marked the agreement and the occasion in her speech as a symbolism of Iwi and crown ministry moving from 'raupatu' (grievance) into 'rauaroha' – a spirit of goodwill, love and cooperation.
The Strategic Partnership Agreement is the third to be signed between iwi and Oranga Tamariki. It follows agreements with Ngāi Tahu in October 2018 and with Ngāpuhi in December 2018.
It's through commitments and relationships like these, that we will make a real difference to the lives of our most precious taaongaa