About the Awards
The Prime Minister's Oranga Tamariki Awards are a celebration of the strengths and achievements of rangatahi in care across Aotearoa New Zealand.
Recognising excellence
"He kōtuku rerenga tahi – the white heron flies only once."
This whakataukī inspired the tohu for these awards, which aspire to be a special, life-changing opportunity.
What are the Prime Minister's Oranga Tamariki Awards?
What are the Prime Minister's Oranga Tamariki Awards?
Transcript
Minister for Children - Kelvin Davis:
The purpose of us being here is to acknowledge the young people who have done so well, done so well, despite extraordinary circumstances.
And I'd just really like to acknowledge you, first and foremost, I'm extremely proud of you. Your whānau are proud of you that are here. I'd just like to congratulate you on what you have achieved.

Event Organiser – Shannon Moananu:
What has been really special about this year is that there are lots of young people doing awesome things. There's a beekeeper and a funeral director and people that want to be social workers and actors and dance, and they are all doing outstanding things.

Minister for Children - Kelvin Davis:
And I hope the scholarship that you receive goes a long way to helping you to fulfil your dreams.

Event Organiser – Shannon Moananu:
So at the moment, our sponsors are the ones that come together and fund the actual scholarship that is attached to the Award. Development whether it's leadership, whether it's vocational development.

Minister for Children - Kelvin Davis:
We back you, we believe in you. And I really hope that you back and believe yourselves.

Inspirational Speaker – Ayla Hoeta:
My journey started in care as well. Some of the people I looked up to in my life who told me, you know, if you want to get out, education is key. Find your craft or find your thing, that aligns with your passion, and educate yourself in that. The more true to who I am that I was, the more I succeeded.
You are the company you keep.
Look at your five best mates, are they awesome? Then you're awesome.
Or are they kore taki? Well, you're kore taki.

M.C. Patrick Gower:
To all the supporters out there tonight.
The whānau, the caregivers. The social workers, the youth workers. Thank you for everything you do to help, not just the rangatahi that are here, but all of our young people as they all grow into the stars that they are.

Chief Executive - Tumu Whakarae ō – Chappie Te Kani:
Tomorrow you are going to be with the Prime Minister. I encourage you to take selfies.
It's important. It's important for us to acknowledge you over the next two days.

Prime Minister - Jacinda Ardern:
Kia ora koutou katoa. Ngā mihi nui, kia koutou.
Welcome, welcome to your place. This is your Parliament as well. Well, it's really special for me to be able to come and just spend a little bit of time. Before we just make this super informal. So I can just come and say hello to everyone and do whatever you want to do, if you want to have a photo, or ..

Award Winner – Unidentified:
Oh, especially with you!

Prime Minister - Jacinda Ardern:
I would be happy to be in a photo, I would love to.

Social Worker – Zola Benioni:
It was amazing to be part of the experience to see all the rangatahi achieve, their goals.
To be recognised for everything that they have done.
Makes me really, really proud. And also reminds me of why I'm doing what I'm doing as a social worker.

Award Winner – Arapuni:
It's such a surreal experience and I'm very grateful.
And just getting to know even the rangatahi has been good.

Chief Executive - Tumu Whakarae ō – Chappie Te Kani:
Always remember the superpower you've unleashed to get you to this point, because when times get tough, you've got it in you, in your ability to get you to where you need to go.

Inspirational Speaker – Ayla Hoeta:
We have come too far not to go further. We have done too much, not to do more.

Chief Executive - Tumu Whakarae ō – Chappie Te Kani:
I'm exceptionally excited for your success, for what the future looks like for Aotearoa.
Whether or not they receive a Prime Minister's Oranga Tamariki Award, being nominated can be a life-changing experience for a rangatahi who has been in care. When you nominate a rangatahi, you show how much you believe in them, their achievements to date, and their potential. Award categories acknowledge excellence in a variety of areas such as academic achievement, creative entrepreneurship, skills and technology, and leadership.
Read about previous recipients and their supporters on the Award News page.
Award scholarships
Award recipients will be given a scholarship with their award to further their skills, talents or aspirations. There are 2 types of scholarships:
Outward Bound 21 day experience (valued at $5495)
$3000 funding scholarship.
Scholarship funds can be used for almost any costs involved in academic study, trade training, creative or business endeavours, musical and cultural interests, sports training, community work and leadership development.
Some examples of how recipients have used their scholarship include:
Purchasing a horse for equine therapy training.
Attending a performing arts course at the Globe Theatre in London.
Buying specialist photography and card-making equipment.
Purchasing fencing tools to start a business.
Taking a dream trip to New York for Fashion Week.
Usually, you can't use your scholarship funds for personal purchases, such as cars or jewellery. If you're unsure and want some advice, get in touch with us to talk about your idea.
The funds are available for 3 years, but we encourage recipients to use it within 1 year. When recipients are ready, we will help them access their scholarship either all at once or a little bit at a time.
Get in touch if you have questions: PrimeMinistersAwards@ot.govt.nz.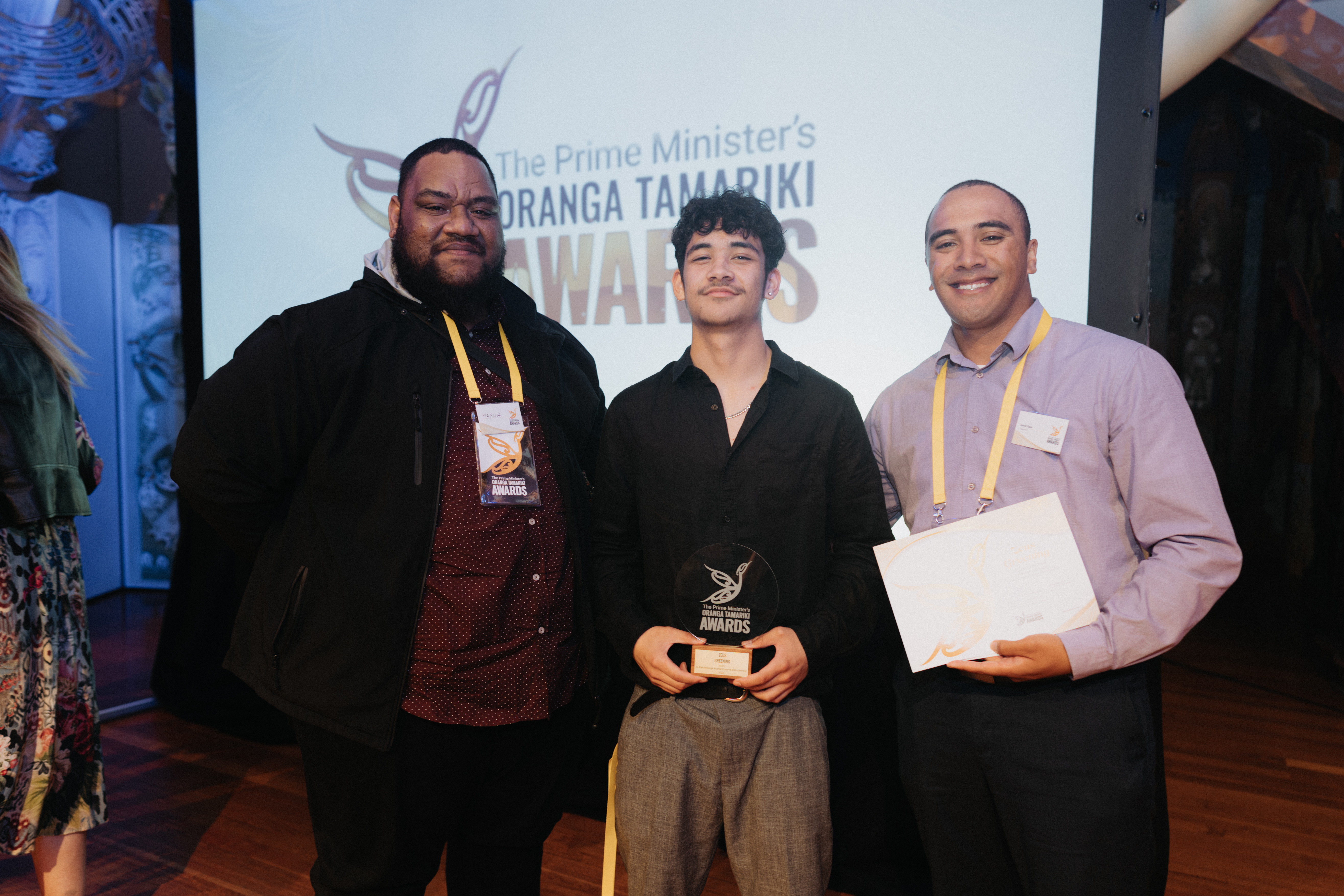 Award presentations
We celebrate our award recipients by gifting them a specially designed tohu and certificate. In the past, we've presented tohu to recipients at national events in Wellington and at local events in their home region.
National events are usually held at the end of the year and recipients are invited to attend an award ceremony. We arrange and pay for travel for the recipient, their nominator and a support person.
Regional celebrations have been held when large gatherings are not possible due to COVID-19 restrictions. Our team works hard to make the day special for rangatahi in other ways, such as providing award packs with vouchers and gifts that can be enjoyed with friends or whānau.
Who can be nominated
You can nominate a rangatahi if they are:
aged between 15 and 21 years at the time of the application
currently in care OR they have been in care within the last 5 years, and
are aware of the nomination.
For the purposes of these awards, "in care" means that the eligible rangatahi is (or was) in the care of Oranga Tamariki, an iwi provider or another NGO provider.
There are up to 25 awards available each year across 5 categories.
If a rangatahi didn't receive an award the first time you nominated them, you can nominate them the following year, as long as they still meet the eligibility criteria.
There is no limit to how many people you can nominate. Please complete a separate nomination form for each rangatahi.
Make a nomination for the Prime Minister's Oranga Tamariki Awards
Published: July 9, 2021 · Updated: October 5, 2023