PMOT Award categories
The Prime Minister's Oranga Tamariki Awards celebrate care-experienced young people. There are several award categories – each award is valued from $3,000.
Kia Eke Panuku
Overcoming adversity, a continuous journey towards success.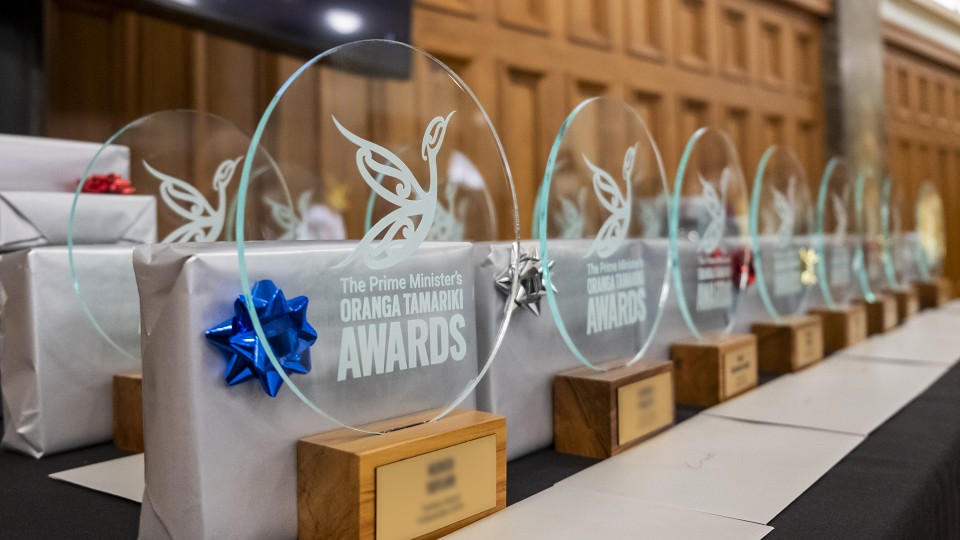 Ngā momo taonga – Available awards
Young people or rangatahi can be nominated for the following awards, valued from $3,000:
Te Ihumanea – Academic Go-Getter
This award supports a young person who is keen to pursue tertiary study on completion of a successful high school year.
Funds can be used for course fees to secure a qualification such as a certificate, diploma, graduate or post-graduate degree at a:
university
whare wānanga
technical institute
industry training organisation.
Te Rakahinonga Auaha – Creative Entrepreneur
This award recognises a young person who has demonstrated a significant level of achievement in the arts or creative fields or has used arts or creativity to effect change in their community.
Funds can be used for:
pursuing performing arts including kapa haka, entertainment, events, graphic design, fashion design, dance, music, fine arts, film, acting and theatre, raranga weaving
an internship or to attend a wānanga course, academy or short-term course, tertiary institute, drama school or theatre studies and anything similar that supports development in this area.
Te Mahi ā-Rehe – Skills and Technology Achiever
This award recognises a promising and competent young person who works well with their hands and is very keen on the trade industries.
The range of apprenticeships and qualifications on offer is as extensive as the industries who provide structured on-the-job learning. Though some qualifications can be done in a classroom setting, many of them are designed to be achieved by working actively in the role.
Funds can be used for a selection of industries providing vocational learning and include:
building and construction
community support services
engineering, manufacturing, civil construction, electricity supply and transmission, water, telecommunications
communications and media
maritime and rail transport
hairdressing, barbering and beauty
textile fabrication
agriculture and horticulture, dairy manufacturing, meat processing and seafood
energy and chemical plant
tourism, travel and hospitality
sports, fitness and recreation
plumbing, gas fitting, drain laying and roofing
financial services
local government, public sector
ambulance, emergency management and fire services.
Te Karahipi Wheako Taiao – Outward Bound Scholarship
This scholarship covers the cost of a 21-day Outward Bound course.
Outward Bound is an opportunity to learn through experience and helps young people reach their full potential through challenge in the outdoors. The classroom is the mountains, bush and waterways of the Marlborough Sounds and the courses are based on real adventure. The experiences are physical, mental and emotional, and no previous outdoors experience is needed to participate.
Travel to Picton and the cost of a doctor's appointment are additional. Outward Bound provides all the specialist outdoor equipment and gear; they also can lend attendees a number of items. However, there may be some clothing costs related to the course.
Te Iho Pūmanawa – Whakamana Tangata
This award recognises a young person who has demonstrated an outstanding contribution to their whānau, community, church or school, or has acted in a way that has inspired others through their language and culture to make a positive change in their own life or the lives of others.
Funds can be used for:
leadership or personal development courses
internships with community trusts and organisations
advocate programmes.
Published: July 9, 2021 · Updated: November 17, 2021