Quality Assurance
The Quality Assurance function within Partnering for Outcomes supports quality practice and learning across Partnered Care. It also has a role in confirming new care partners.
Our approach
The Quality Assurance approach is relational. We focus on building partnerships and understanding the experiences of the tamariki, rangatahi, carers, and whānau involved in care.
The function was designed collaboratively between a range of care partners and Oranga Tamariki. It will continue to develop and be refined over time as we learn together.
Continuous improvement and collaboration are some of the foundational principles that have been agreed between care partners and Oranga Tamariki. These principles have shaped the development of the Quality Assurance function and continue to be the focus guiding our mahi.
This process applies to care partners currently contracted to provide care. If your organisation is interested in becoming a care partner, visit the Becoming a care partner page for more information.
Guiding principles
Together, we commit to upholding these guiding principles to ensure the Quality Assurance function for Partnered Care:
focuses on the primacy of outcomes for tamariki
facilitates continuous improvement that shares and builds on strengths
promotes openness and transparent practice, informed by feedback loops
embeds

mana tamaiti

, whakapapa, and whanaungatanga principles
enables a collaborative approach between partners and Oranga Tamariki
provides independent practice judgement on quality
minimises duplication of effort for all parties
shares mutually beneficial information, valued and used by all parties
provides timely, robust advice to inform decision-making
clarifies lines of accountability for all parties
ensures a consistent approach to Quality Assurance and provides an integrated view of care.
The Quality Assurance Framework
The Quality Assurance Framework for Partnered Care was designed by care partners and Oranga Tamariki. The Framework helps Oranga Tamariki to understand quality of care through 3 lenses:
The Care Standards and other legislative requirements.
The experiences of tamariki, whānau and carers in Partnered Care.
Our commitment to the principles of mana tamaiti, whakapapa and whanaungatanga.
To view the Quality Assurance Framework and more information on how the Framework was created and will be used, download the PDF below.
System Enablers: How is the Partnership Working?
System Enablers allow us to understand the wider context within which Partnered Care is delivered and how this supports or influences the quality of practice. 4 specific high-level areas have been identified to support these reflections:
Community.
Capacity.
Capability.
Culture.
To view the System Enablers and prompting questions for each of the 4 specific areas, download the PDF below:
Quality Assurance Cycle
The Quality Assurance function for Partnered Care will rely on a combination of quantitative and qualitative information to understand that Partnered Care provides safe, quality care responses and to ensure we meet our respective obligations.
The Quality Assurance Cycle involves regular engagements throughout the year which are regionally and nationally led and supported by communities of practice. Throughout the Quality Assurance Cycle, care partners and Oranga Tamariki will gain deeper insights into how the partnership is working and understand the experiences of tamariki, carers, and whānau.
Quantitative information collected through Data Exchange will be supplemented by much richer information shared during locally-led reflective conversations and during discussions with other stakeholders including frontline kaimahi.
Insights from the information collected will be brought together and shared during engagements across the Quality Assurance Cycle, including:
regular Partnership Touchpoints
Annual Care Partner Reflection
within Communities of Practice to generate and share best practice knowledge.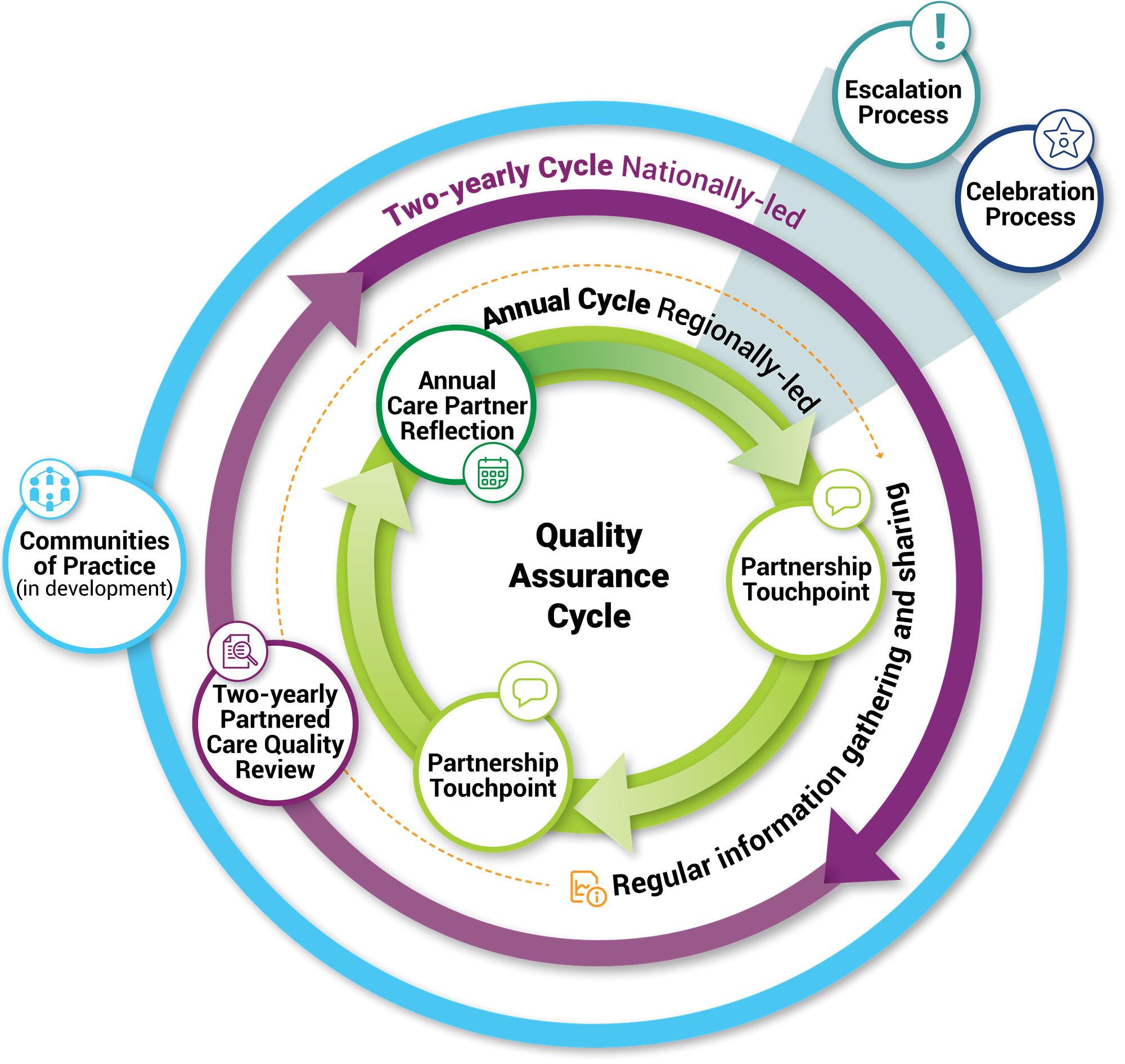 Image text description - Quality Assurance cycle
The infographic shows the Quality Assurance Cycle for Partnered Care.
Image of four concentric circles, going from the outer circle, inward.
Outer circle. Text: Communities of Practice (in development)
Next circle represents a two yearly cycle, nationally led. Text: Two-yearly Partnered Care Quality Review
Next circle. Text: Regular information gathering and sharing
Inner and last circle represents the annual cycle, regionally led. Text: Annual Care Partner Reflection and Partnership Touchpoints
Blue wedge cutting through the circles. Text: Escalation Process and Celebration Process (can be triggered at any point throughout the cycle)
To view the Quality Assurance Cycle and more information on each of the components, download the PDF below.
Published: September 15, 2023